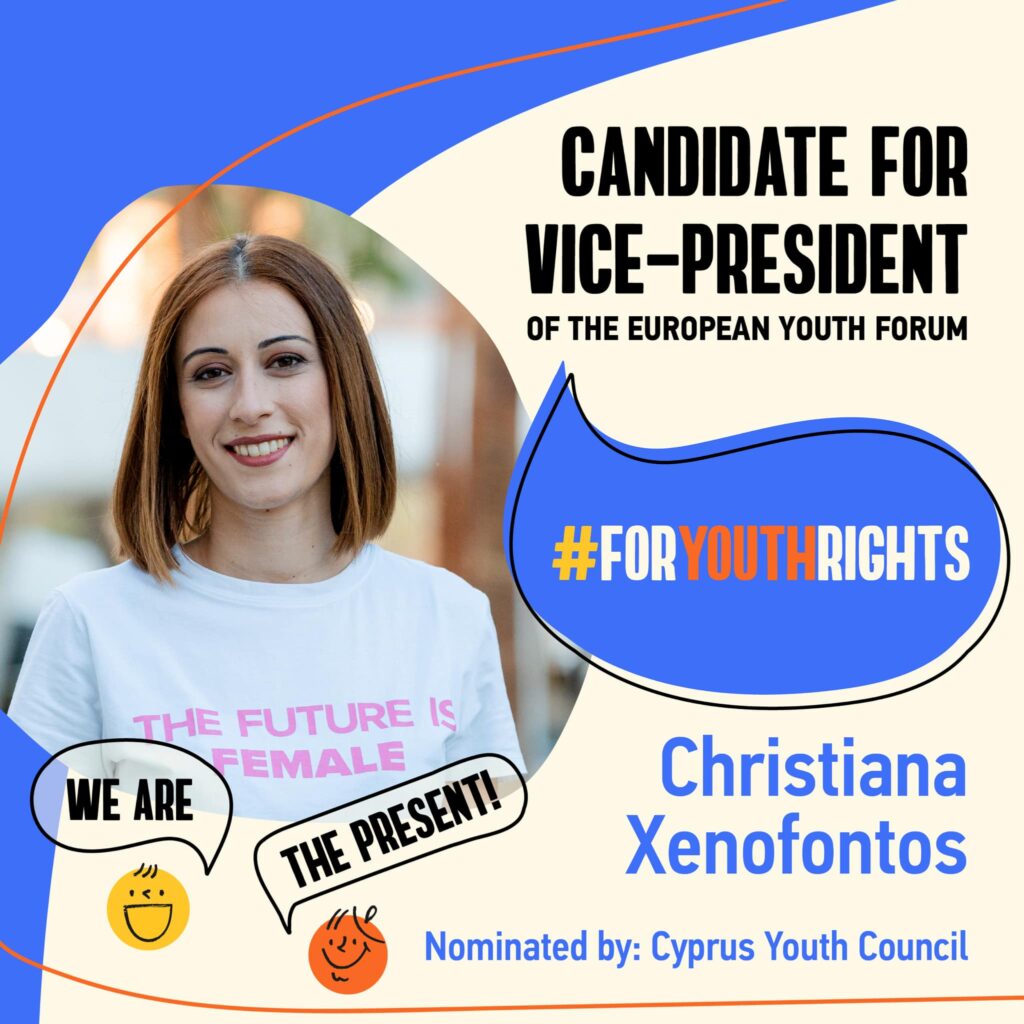 Announcement!
We are delighted to announce that our Christiana Xenofontos is running for the position of the Vice-President in the upcoming elections of the European Youth Forum (YFJ).
We couldn't be prouder to see a true fighter for Youth Rights, running for the upcoming elections!
We are confident that Christiana has all the potential, dedication, passion, expertise and knowledge that the position of the Vice-President in the Board of the YFJ requires.
If you would like to have a talk with Christiana do not hesitate to contact her through https://linktr.ee/ChristianaXen
We are #Together4YouthRights
"Dear friends,
Many things happened in the last two years, which have changed us and our lives. We survived the pandemic, we survived the shrinking spaces, we survived the youth-washing and we are still standing for our rights.
Today, with a sense of responsibility towards what the European Youth Forum represents, but also towards all the great things that my current mandate gives me and the wisdom that there are steps that we still need to make in order to empower the voice of young people, I announce that I am running as a candidate for the Vice-Presidency of the European Youth Forum in the upcoming elections, nominated by the Cyprus Youth Council.Συμβούλιο Νεολαίας Κύπρου.Kıbrıs Gençlik Konseyi.
Despite the challenging era we have to face as young people, it is our right to keep our hopes high and to keep fighting for our vision-ideas-values. These three elements have been and still are my guide through this exciting, but also demanding journey.
I look forward to your support and thus I would love to meet with all of you to discuss your vision on the future of the #YFJ. Do not hesitate to reach out to me: https://linktr.ee/ChristianaXen
I am looking forward to a productive and open dialogue with all candidates and youth representatives of the MOs for a stronger, more sustainable and more inclusive European Youth Forum. Our platform stands and should stand as a safe-space for all young people in Europe and this is our shared responsibility.
P.s. "Alone we can do so little; together we can do so much" H.K.
Christiana X.
#Together4YouthRights
"