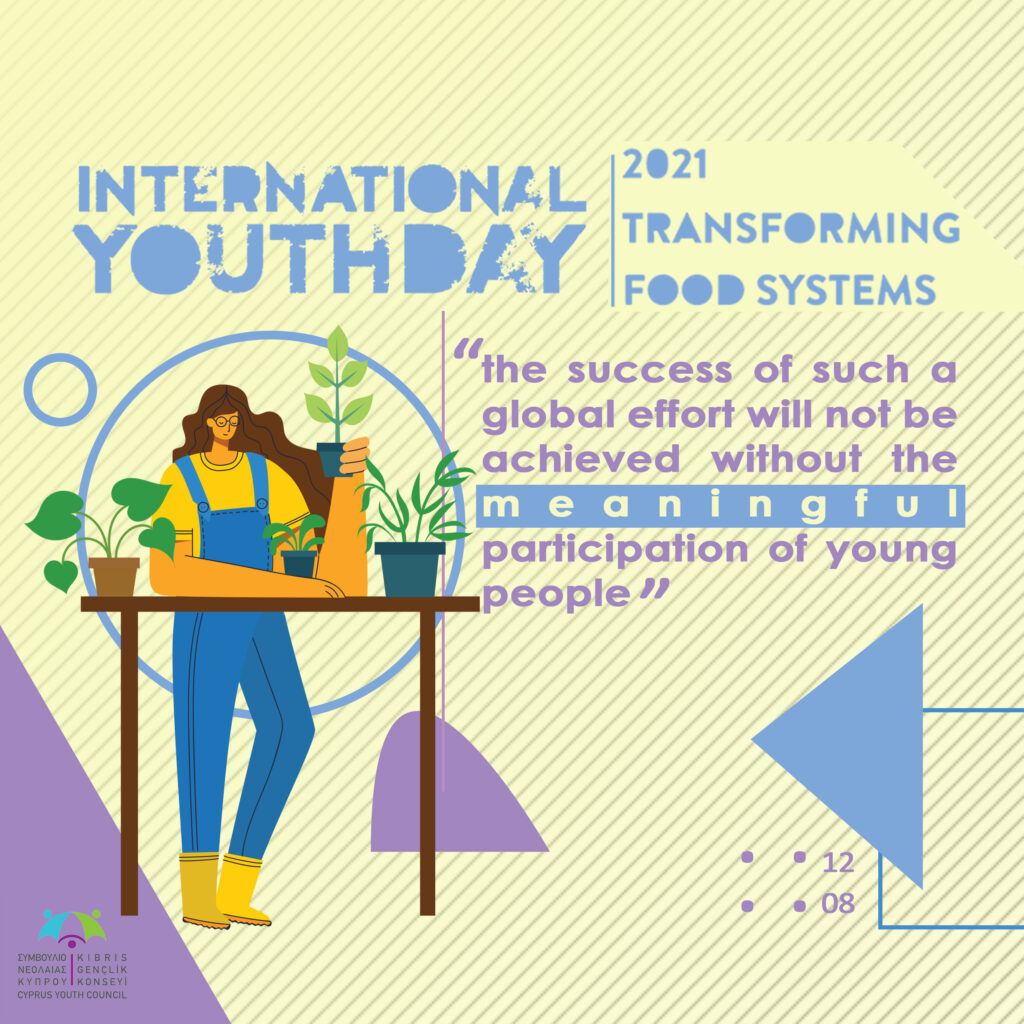 Nicosia, August 12, 2021
PRESS RELEASE
INTERNATIONAL YOUTH DAY
Cyprus Youth Council, as the official platform representing youth organisations as well as all young people in Cyprus, honours the International Youth Day. International Youth Day Is celebrated every year on the 12th of August, after a General Assembly Resolution adopted in 1999. The aim is to highlight the problems that young people around the world face as well as to give the necessary space in order to showcase the actions and initiatives of young people aiming in a meaningful participation in decision making structures.
This year's theme for the International Youth Day has been set as "Transforming Food Systems: Youth Innovation for Human and Planetary Health", highlighting solutions developed by young innovators to address challenges to our food systems, tackling inequities in food security, biodiversity loss and climate change.
It is true that young people are on the frontlines of the struggle to build a better future for humanity. Covid-19 pandemic has highlighted the need for transformational change in many aspects and policies that affect, not only young people but the entire planet. It is, though, very important, young people to have a seat at the decision making table in order to express their opinion in all these matter that affect them directly or indirectly. Without meaningful youth participation, the effort to protect people and the planet, can never be considered as complete.
Cyprus Youth Council will continue to actively work through many actions and projects undertaken, for the protection and promotion of the rights of young people as well as for their meaningful participation in decision making structures, in order to design and implement sustainable policies, having as a final aim the empowerment of all young people of Cyprus.
Cyprus Youth Council,
Nicosia, 12 August 2021
Learn more: http://bit.ly/UN-IYD2021