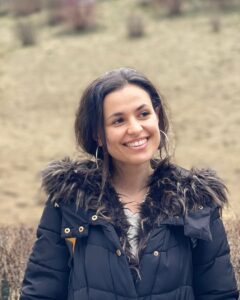 FIELDS OF EXPERTISE & INTEREST:
Mentoring
Self-development and Youth Participation
Human Rights Education – Social Inclusion
Sports/ Dancing and Outdoor Activities
EXPERIENCE:
In recent years, I had the opportunity to participate in several Non-Formal Learning programs, both in Cyprus and abroad. As a youth trainer at the Cyprus Youth Council since 2017 and as a board member of the NGO Youth for Exchange and Understanding Cyprus, YEU Cyprus (2014-2017), I have gained a wealth of experiences that have helped me to act more effectively and dynamically among young people.
I have strengthened my field of knowledge in terms of new methodological approaches and techniques, to involve as many young people as possible in the various actions. Equally important I consider the cultivation of social and communication skills. This kind of education contributes to a more substantial, multifaceted development of the individual, as well as to a more active participation in society. For this reason, I try to enrich my material bank with useful practices and new ideas, with the ultimate goal of designing worthwhile programs, both locally and internationally.
I believe that the spirit of multicultural mutual understanding and respect for diversity and human rights are key factors in our current multicultural community. That is why I try to deal with the planning of organized actions, outside the standard education system, which contributes to the cultivation of citizens with a multifaceted character. Furthermore, considering my active involvement in Sports and Outdoor Activities, and as a Licensed Zumba Fitness Instructor for adults and children, I use Zumba as an educational tool to encourage an active involvement of young people in such activities and to lead to a more active lifestyle. I am always open to any new idea and proposal as long as there is active participation on behalf of young people.
BRIEF BIO :
Natasa is a primary school teacher. She is passionate about her profession and she loves to teach kids using Non-Formal Educational methods for them to acquire knowledge and skills in a funny way. She is energetically involved in her NGO, organizing activities that promote mutual understanding and respect among the young people of the world. She is very much engaged in sports and outdoor activities and she organizes workshops, events and training courses on related issues. She enjoys travelling and meeting new people. As a Licensed Zumba Fitness Instructor for adults and kids, she tries to promote the well-being of young people, for them to lead a healthy lifestyle.
WORKING LANGUAGES:
Greek / Ελληνικά, English / Αγγλικά, Ισπανικά/Spanish FLUENT
French/ Γαλλικά INTERMEDIATE
MY MOTTO:
Tell me and I will forget. Show me and I will remember. Involve me and I will understand. Step back and I will act.