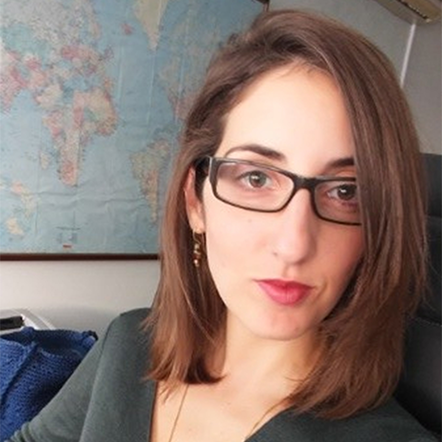 FIELDS OF EXPERTISE & INTEREST:
Empowerment & Participation
Diversity & Social Inclusion
Dialogue & Engagement
Youth Radicalisation
EXPERIENCE:
Dr Eliza Patouris has practical, longstanding experience in the fields of youth empowerment and innovation. Over the past six years she has completed more than 15 international projects as European Project Manager, Trainer and Researcher. She has implemented several workshops, events and training Youth Radicalisation, Social Reintegration, Capacity- building, Social Justice and Social Inclusion. Her most recent work adopts a youth-led approach as a powerful resource for inspiring and engaging young people, improving their leadership skills and building social cohesion.
BRIEF BIO:
Eliza is an energetic, creative and professional individual with a passion to empower and actively engage young people. Eliza's work and research focuses on reintegration, social inclusion and equal treatment for all. She is a strong believer of giving young people the right to be change-makers and initiative-takers. After completing her PhD in the Psychology of youth risky behaviours at the University of East Anglia (UK), where she also worked as a Lecturer in Psychology, she moved to Cyprus to take on work as a Lecturer of the MA Criminology and BSc Forensic Psychology programme at the University of Nicosia. At the same time, for the past six years she has been working as a European Project Manager, Trainer and Researcher at the Centre for Advancement of Research and Development in Educational Technology (CARDET). She has published several articles in the fields of youth reintegration and has been a speaker at European conferences related to social inclusion and active citizenship. She has designed, developed and implemented formal and non-formal training related to youth radicalization and youth empowerment to professionals, young people, parents and educators. She is an Advanced Dialogue Facilitator under the Erasmus+ Virtual Exchange (Soliya) programme which provides young adults with a unique opportunity to establish a deeper understanding for the perspectives of others around the world on important socio-political issues.
WORKING LANGUAGES:
Greek, English, Italian
MY MOTTO:
"Imagination is more important than knowledge. Knowledge is limited, whereas imagination embraces the entire world"
– Albert Einstein